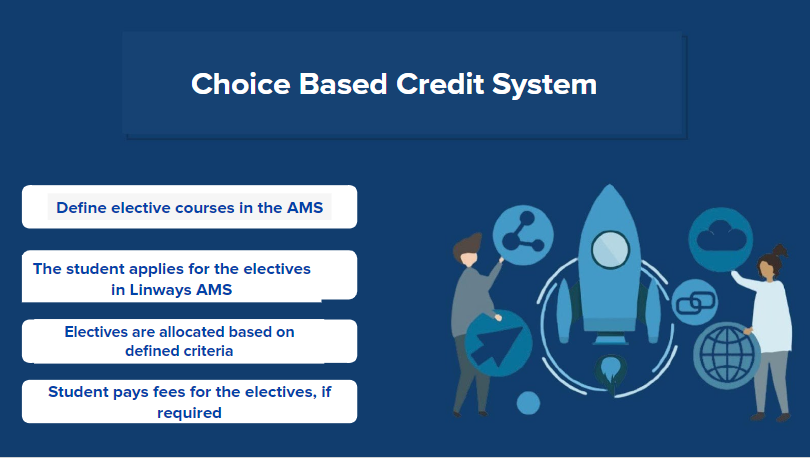 Choice Based Credit System (CBCS) by Linways
---
The best tool to implement Choice Based Education(CBE) in your institution with ease and minimal managerial overhead
SCHEDULE A DEMO

What is Choice Based Credit System
---
The Choice-Based Credit System(CBCS) is an educational model in which the students are allowed to choose and learn the subjects of their interest. The CBCS provides an opportunity for the students to choose courses from the prescribed courses comprising core, elective/minor, or skill-based courses. The courses can be evaluated following the grading system, which is considered to be better than the conventional marks system.
---
Choice Based Credit System Software for Higher Education Institutions
---
Linways Academic Management System has CBCS which helps institutions to implement Choice Based Education with ease and minimal managerial overhead. Besides sharing info, we wanted our users to learn, and to be able to implement such creative solutions to improve the quality of education. With Linways AMS, it's easier than ever to implement and great to work with.
SCHEDULE A DEMO
CBCS will help potential faculties to assess the performance of students on a unified scale.

Students can also opt for additional courses and can score more than the required credits.

allows a student to study what he/she prefers as per his/her interests.

Students can learn at their own pace.
Linways Choice Based Credit System Workflow
---
CBE Application Creation Process
Assign Subjects to Batches
Features of Linways Choice Based Education(CBE)
---
Criteria Based Elective Allocation
Collect Fee (If required)

---
VISION
Empower every educators with the right technology to accelerate learning.
MISSION
Empower educators, inspire learners, change the future.