Features
We never add a feature, just for the sake of it. We do it with care, passion and intention to provide the best user experience.
See how to make your data work for you.
Our built-in analytics helps you monitor and generate reports & performance graph keeps you motivated.
Simple
Highly interactive & easy to use.
Flexible
Convenience and the ability to learn at any place and any time.
Smart
Single point for all learning needs.
Easy report generation
It redefines the way your faculties generate reports.

"What you want & the way you want it."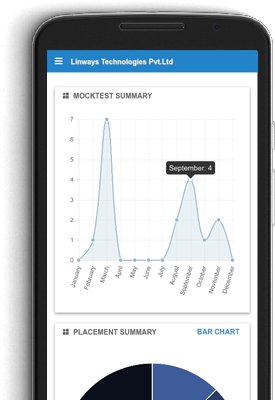 Course material distribution
Teachers can distribute course material through Linways learning management system
Academic Audits
You can generate all kinds of auditing reports for university and academics to ensure quality and integrity
Placement and Training Management
Helps the placement officer to manage all placement activities in one place
Examination hall & seating arrangement
The entire procedures such as seating arrangement of students, hall allocation, notices, invigilation duty list, generating reports etc can be done in a single click
Leave Management
This speeds up and simplifies your entire leave management process. You can record and monitor all types of leave across your organization
Online Admission Management
Manage the admission process with online application, filtering, allotments, etc
Discussion Forums
Conduct discussion forums on various topics to boost the academics, conduct group discussions, and to improve the collaboration over team projects
Principal Insights
Can identify, analyze and track all the activities and issues inside the institution
Attendance Marking and Report Generation
Effective attendance management, daily, weekly, monthly, subject wise reports
NBA Reports
Effective attendance management, daily, weekly, monthly, subject wise reports
Library Management System
Manage entire library through Linways Library management System
Human Resources Information System (HRIS)
Our HRIS lets you keep track of all your employees and information about them
Time Table Management
You could easily set batch timetables using our easy to use timetable module
Online Examination & analysis
Conduct online examinations and assessments with ease using the online examination
Notifications
Get notified of various events and to make the campus paperless
Grievance Management
Manage grievance and complaints, and track the actions taken in accordance with it
Publish Marks and Performance Analysis
Publish marks, generate various progress or performance analysis reports for easy judgment and decision making
Auto Normalized Mark List
Linways will generate auto normalized mark lists for university internal mark calculation
Progress Report Generation
Generates a diverse array of configurable progress reports and rank lists. Also allows drill downs such as comparison of marks, subject wise ranks, attendance history and many more
Transportation Management
Complete vehicle management, vehicle wise routes and pickup points, Pickup point wise student report, etc
Online Feedbacks
Collect real-time performance data for continuous improvements and enhancements
Lesson Planner
Plan your curriculum, map the outcomes, and track the progress with the lesson planner module
Examination Management
Easy examination management, including hall arrangement, assigning faculties, track attendances, number of answer sheets used, etc
Student Planner
The student planner allows a student to view all his activities, including events, examination, assignments, etc. in a single glance
SMS and Mail Alerts
Parents get attendance alerts, marks of their child through SMS/email
Digital Library
Linways digital library is a browser based application, so user can access digital library module even from their home with out installing extra software
Document Repository
Allows easy conversion of files such as pdf, MS word, MS power point, etc. into a linways platform standard document thereby facilitating easy sharing and management anywhere within the platform
Hostel Management
It manages multiple hostels, hostel wise students, room reservations, allotment and other facilities
Faculty Appraisal Management
Manage faculty appraisals and evaluations with minimum effort using the faculty appraisal management module
Question Paper Generation
Create and manage question papers for various assessments
Tally Integration
We support tally with the AMS for the payment and finance management
API for Bio-metric Systems
We provide API for integrating bio-metric systems with Linways AMS
imagine
The whole process of education managed with a single tool.
Everything you have been doing till now will be either automated or will be made so easy that it won't even be considered as a task.